Manufacturing Process
The Company has the world-class manufacturing and analysis facilities in its factory premises, which meet the cGMP standards besides standards prescribed under Drugs and Cosmetics Act and Rules, and it strictly follows guidelines laid down by the W.H.O. for the manufacture of Pharmaceutical Formulations.
The manufacturing plant at the site is solely dedicated for the production of only those pharmaceutical formulations for which due permission has been granted by the Licensing Authority
Formulation
All raw materials uses after passing through specified tests by Quality Control Department, as per pharmacopoeia and as per In House specifications.
Soft gelatin capsules are manufactured in the room where environmental conditions like temperature and humidity are controlled and monitored by special device. Rotary Die encapsulation machine are used for manufacturing of soft gelatin capsules. During encapsulation capsules are checked for their size, shape, and leakage and weight variation by manufacturing chemist as well as by IPQC.
We have six Deoiling machine the entire capsules obtained from encapsulation first undergoes Deoiling process and then drying process under control environmental condition. We have three drying chamber with different temperature and Humidity in which the capsules are keep step by step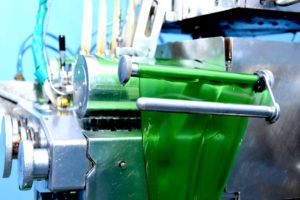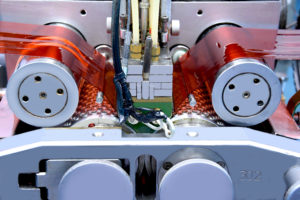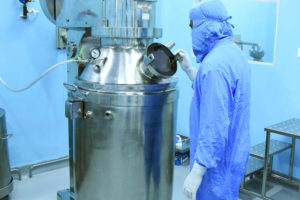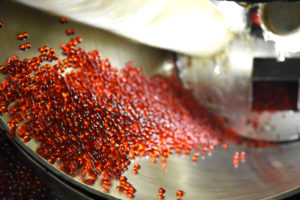 Packaging
Soft Gelatin Capsules are packed in Blister or Bottle .There are different packaging style for Blister and bottle both,Bottle filling can be provided with tamper evident caps and freshness seals to prolong shelf life.
Additionally, automatic labeling can be applied to the bottles, or if relabeling is required due to language differences with some imported products.
Blister packaging is an option for creating packages that are durable, transparent, and tamper proof.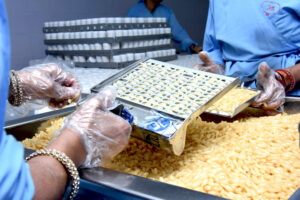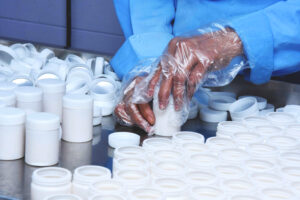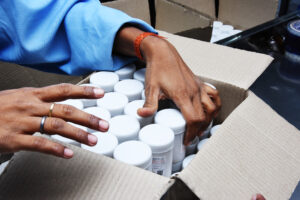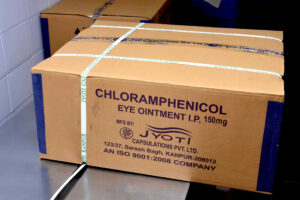 Quality Control Department
We have dedicated Quality Control Lab with Microbiology Department to carry out testing as per specifications and standards. All specifications and analytical methods are approved by Quality Control Department and Quality Assurance Department. The Analytical skills of our experienced and qualified analyst are supported by Sophisticated Analytical Instruments such as UV Visible Spectrophotometer, Disintegration Test Apparatus, Gas Chromatography, Polarimeter, UV cabinet, Laminar Flow Station, BOD Incubator, Dissolution Test Apparatus, High Performance Liquid Chromatography (HPLC), Karl Fischer Titrator, pH meter, Refractometer, Incubators Vacuum Ovens Sterility Test Unit.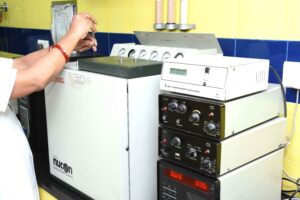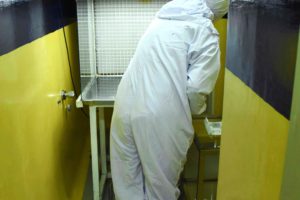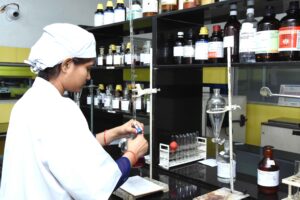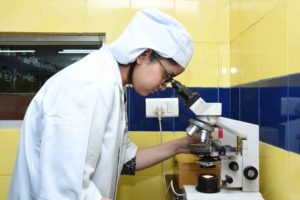 Quality Assurance Department
We strive to provide customers with quality products that exceed their expectations. We achieve this through our Quality Assurance program developed to ensure continuous validation and improvement in all areas of the manufacturing process. The depth of experience, capabilities, knowledge of our technical professionals and the advanced scientific analytical instruments assures that a world class quality of final product reaches our customers.
Arrangement for Water Treatment
The Company has provided a Water softner plant for our chiller plant, De-ionizer with the capacity of (60 Liter/ Hour) and water Treatment Plant (R.O. System) for manufacturing. Reverse osmosis systems produce high quality permeates water. The reverse osmosis process uses semi permeable spiral wound membranes to separate and removes dissolved solids, organic, pyrogens, sub micron colloidal matter and bacteria from water. Feed water is delivered under a specified pressure through reverse osmosis membranes and is delivered as purified water.